Meet Turbozaurs on social media to find fun content and new friends.
The show is based around the adventures of Turbozaur`s squad who are willing to solve any difficulties, troubles that kids may face in their everyday life.
TURBOZAURS is a new animated TV series packed with excitement, adventure and fun. Realized in state-of-the-art CGI 3D animation, it brings together two favourites of young children everywhere – DINOSAURS and BIG MACHINES.
What could be better!
TURBOZAURS
TURBOZAURS is a new animated TV series aimed at 3–7-year-olds, 78 x 7 minutes episodes packed with excitement, adventure and fun (52 more episodes are in production). Realized in state-of-the-art CGI 3D animation, it brings together two favourites of young children everywhere – dinosaurs and big machines. And if dinosaurs can transform into big machines? What could be better!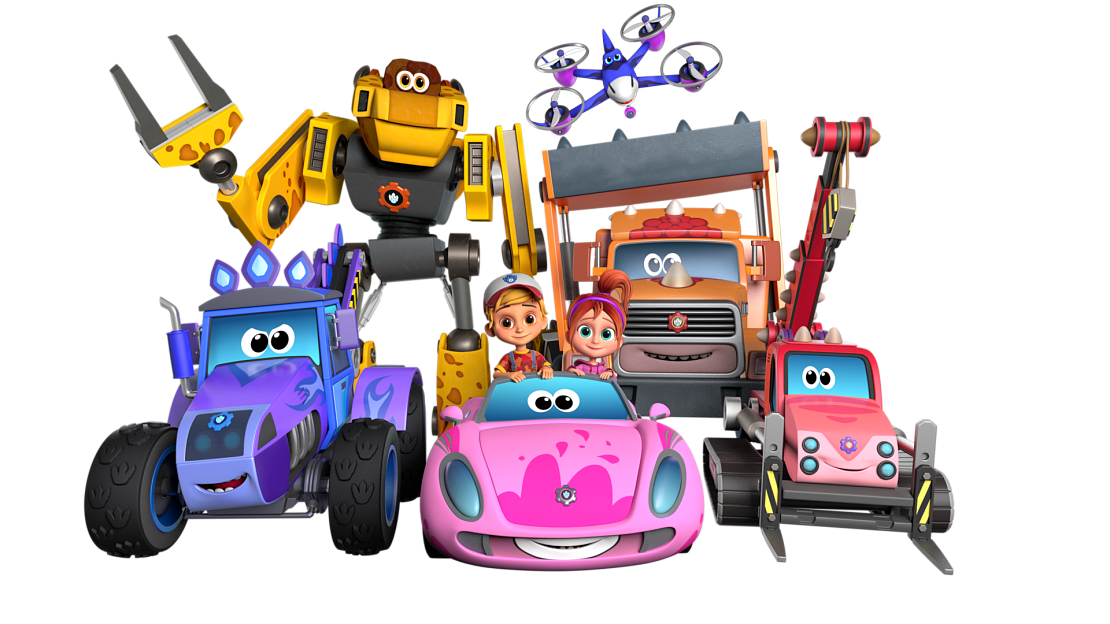 BULL
Bull is a dinosaur who transforms into a tow truck, complete with winch. As a tow truck, he has a big, powerful engine and knobbly tyres, enabling him to be useful in all sorts of physical rescue situations.
But Bull is much more than a creature of raw power. He's a genuine leader, serious, thoughtful and the first to come up with a good plan. If there's a rescue to be carried out, Bull is the one you want on your side.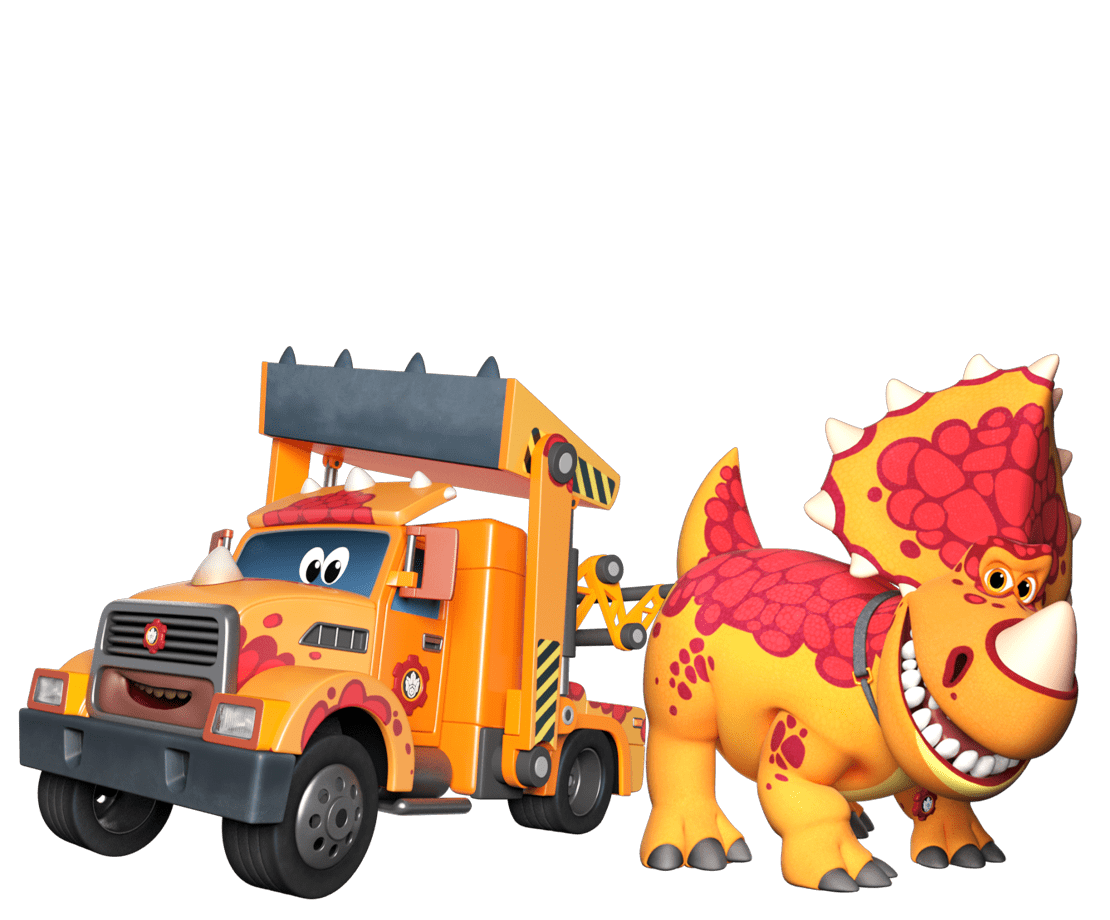 THOR
Thor is a plump, grass-eating stegosaurus who loves to eat. He has impressive shields on his back, but despite his ferocious appearance he is actually quite placid. He tends to grab ideas and arguments out of the sky without any evidence, and will confidently relay those baseless arguments as though they are facts.
Thor turns into a bulldozer-tractor with a series of moving buckets fitted at the rear. His fat tractor wheels, and powerful engine make him useful when brute strength is required, and his buckets give him an advantage when the situation calls for fast digging and removal of materials.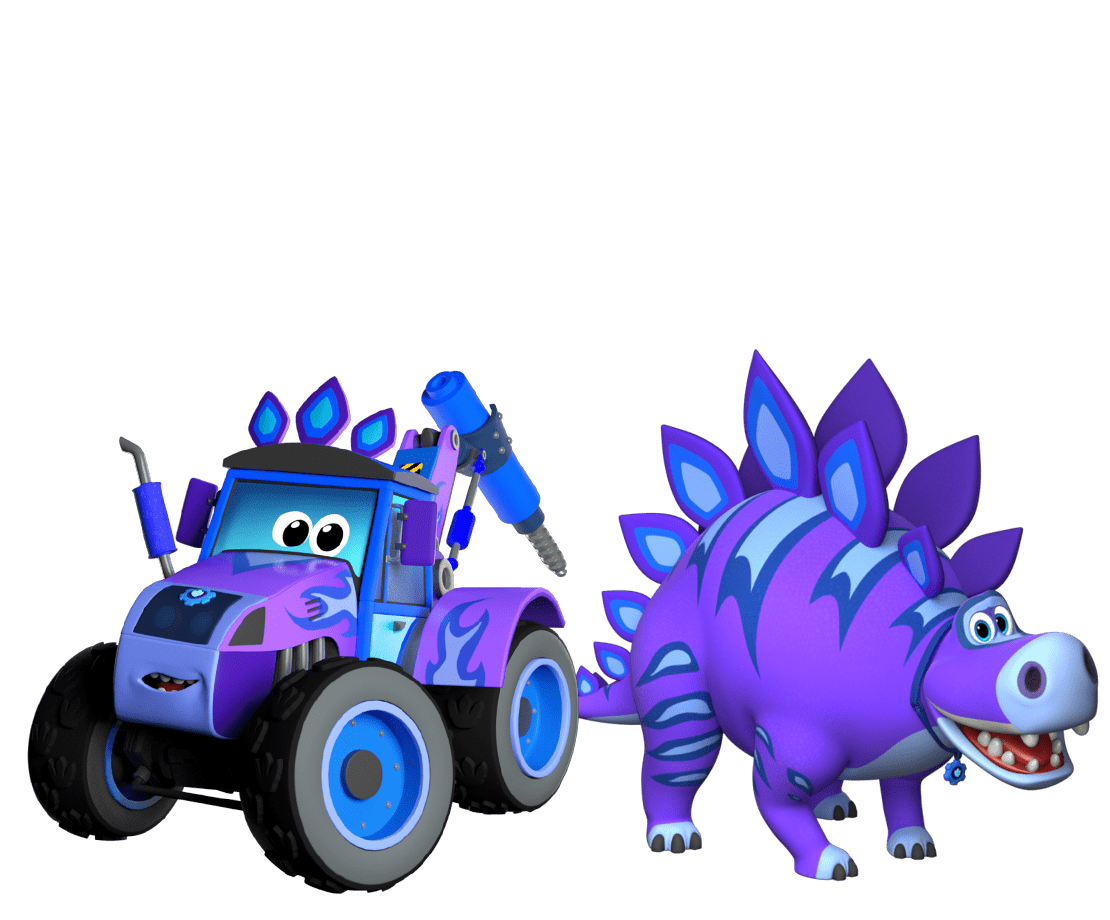 UNKY
Unky is a ankylosaurus, who looks something like a hedgehog. He sometimes struggles to keep up and tries to make up for his lack of experience by making silly suggestions. Of course, like a stopped clock that's accurate twice a day, every now and then one of his suggestions turns out to be useful.
Unky turns into a crane, giving him a specialised ability that he makes up for by being so enthusiastic and willing.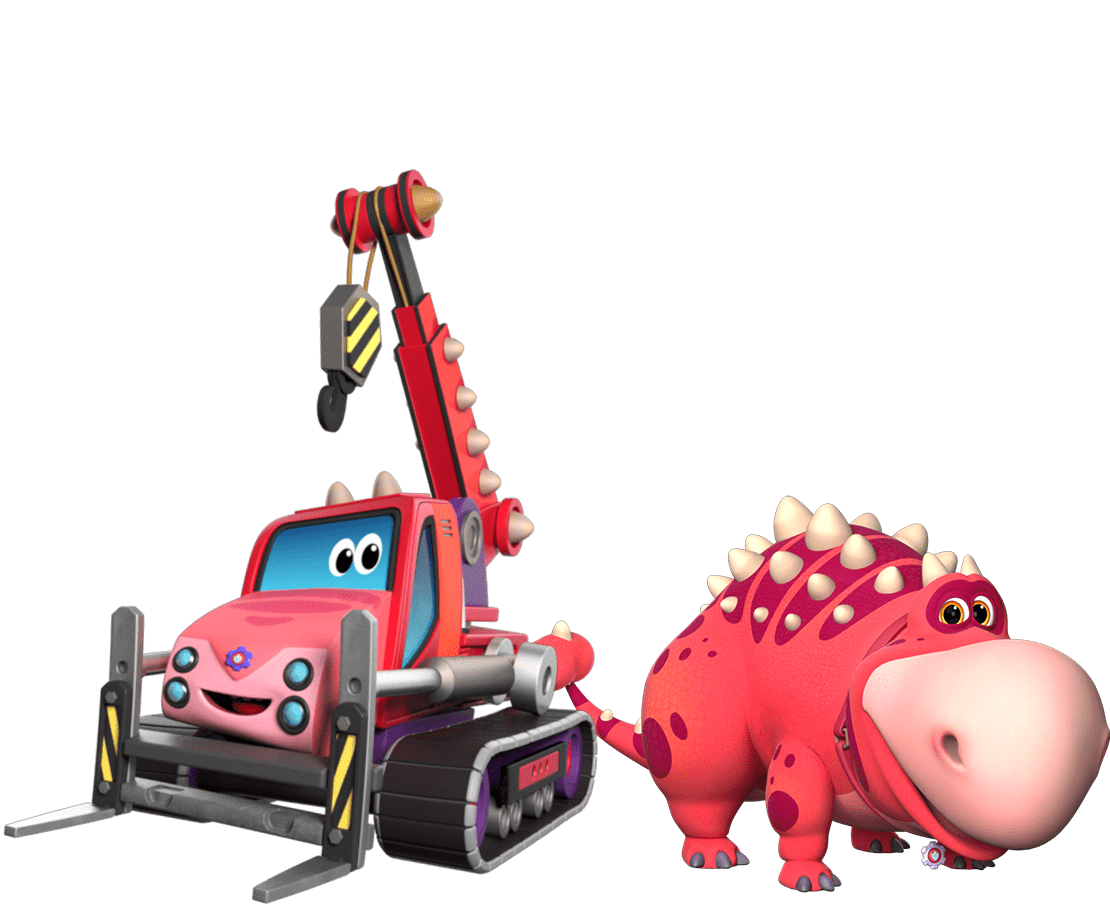 CHUCK
Chuck is a tyrannosaurus, charming, personable, but not 'the sharpest tool in the box.' He's a good guy at heart, but lazy and inclined to take the easy way out. Part of his laziness is caused by the fact that he can stand on two legs and has short front legs, almost like arms and hands. With these 'hands' he can do things that the others can't. He generally falls in with whatever plan is being suggested and is a bit in awe of decisive Bull.
In machine form he is like a big 'robot', walking on two 'legs' and equipped with powerful grabs on the end of his 'arms.' These work on universal joints, allowing him great flexibility when handling things. One problem: if an adult sees the other machines their presence can generally be justified, but the sudden appearance of a giant robot can be trickier to explain!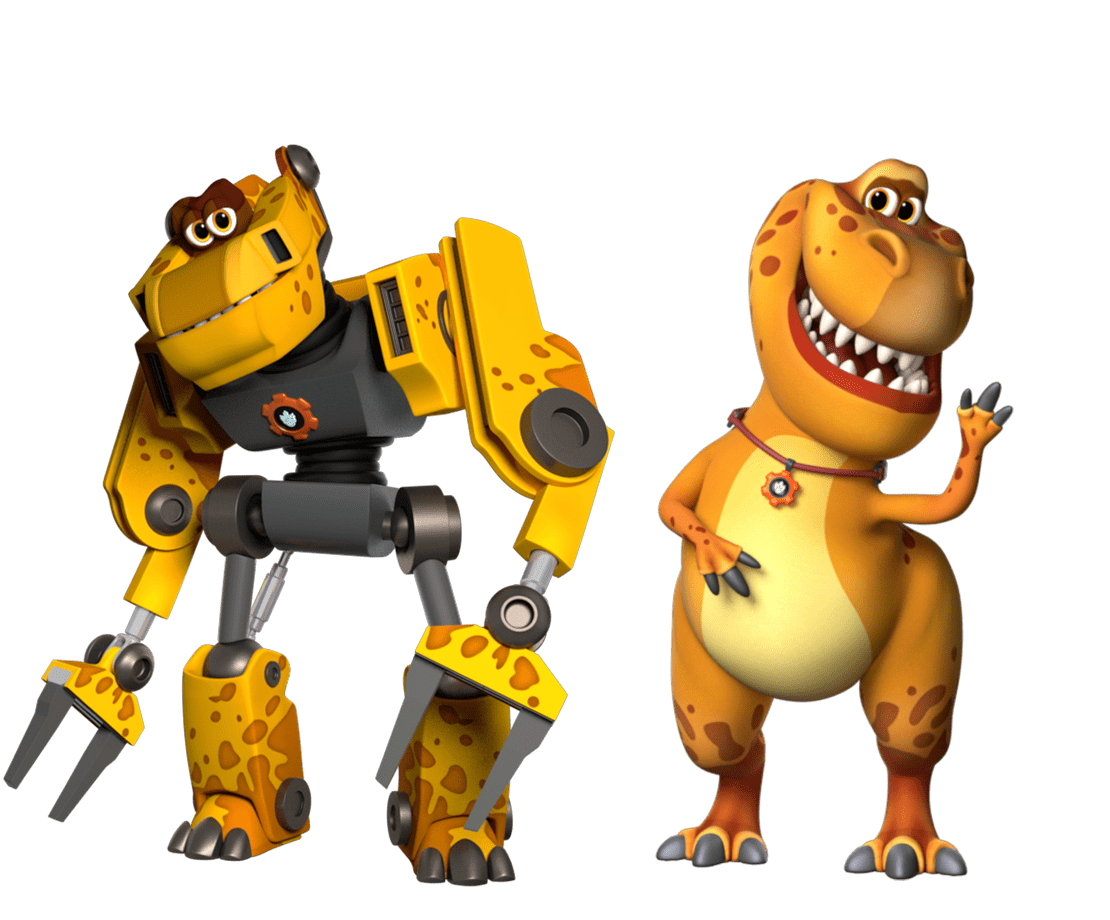 JERRY
Jerry is a pterodactyl, thus the only one of the team who can fly. He's a cheeky, cheerful fellow who's a bit of a show-off, always carrying a camera and doing 'selfies.' He likes to do aerobatics, zooming this way and that like a jet fighter, and enjoys surprising the others by swooping down on them when they're not looking. He particularly enjoys scaring Jo in this way.
Jerry can turn into a drone, and in both this form and as a pterodactyl, he's an invaluable scout, able to see and find out things that none of the others can. As a drone, he's equipped with full photographic and video devices. Despite the pranks he plays on Jo, she's quick to forgive him when he photographs or videos her.
JO
Jo is a girly girl, a female dinosaur with a penchant for all things pink and pretty. She is tended to witter away about inconsequential matters.
In vehicle form, Jo is a pretty pink convertible sports car – which makes her, apart from the flight-capable Jerry, the fastest of the team. She can carry several passengers in comfort too. But what really makes her stand out from the others is the fact that she can, when the situation calls for it, transform one stage further: her wheels balloon, her bodywork rises, and she becomes a bigfoot all-terrain vehicle, able to go cross-country almost as fast as she can tear up the roads.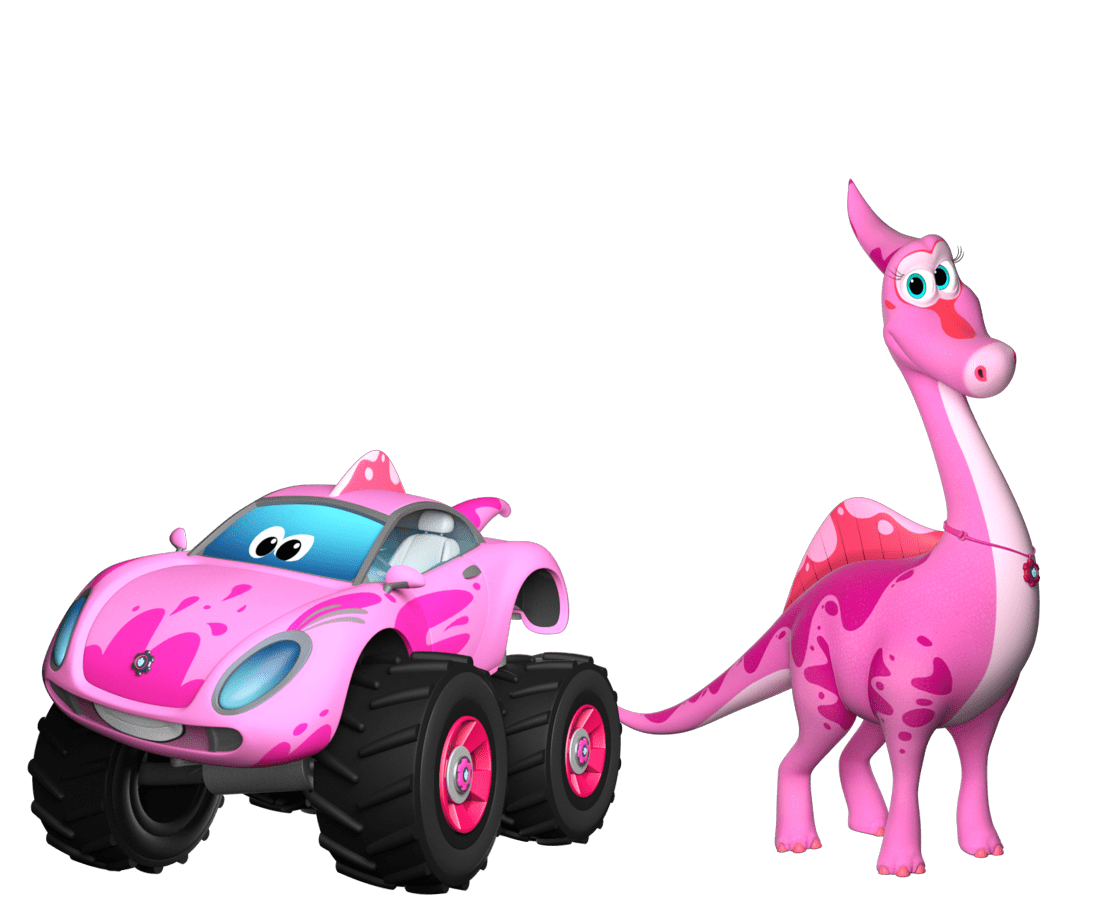 PETER
Peter is 6-7 years old, and a very active, outgoing child. He loves the outdoors, preferring to explore the forests and fields to playing indoors. He does all right in school, achieving just enough to satisfy his teacher, although she suspects he could do better if he worked a little harder. The trouble is, he finds it hard to apply himself to subjects he's not really interested in.
But with subjects he does like – that's different! If it's anything to do with technology – computers, video games, electronics – Peter is there. For someone so young, he's advanced – many times Grandma has had to ask him to tune her television or show her how to use her phone.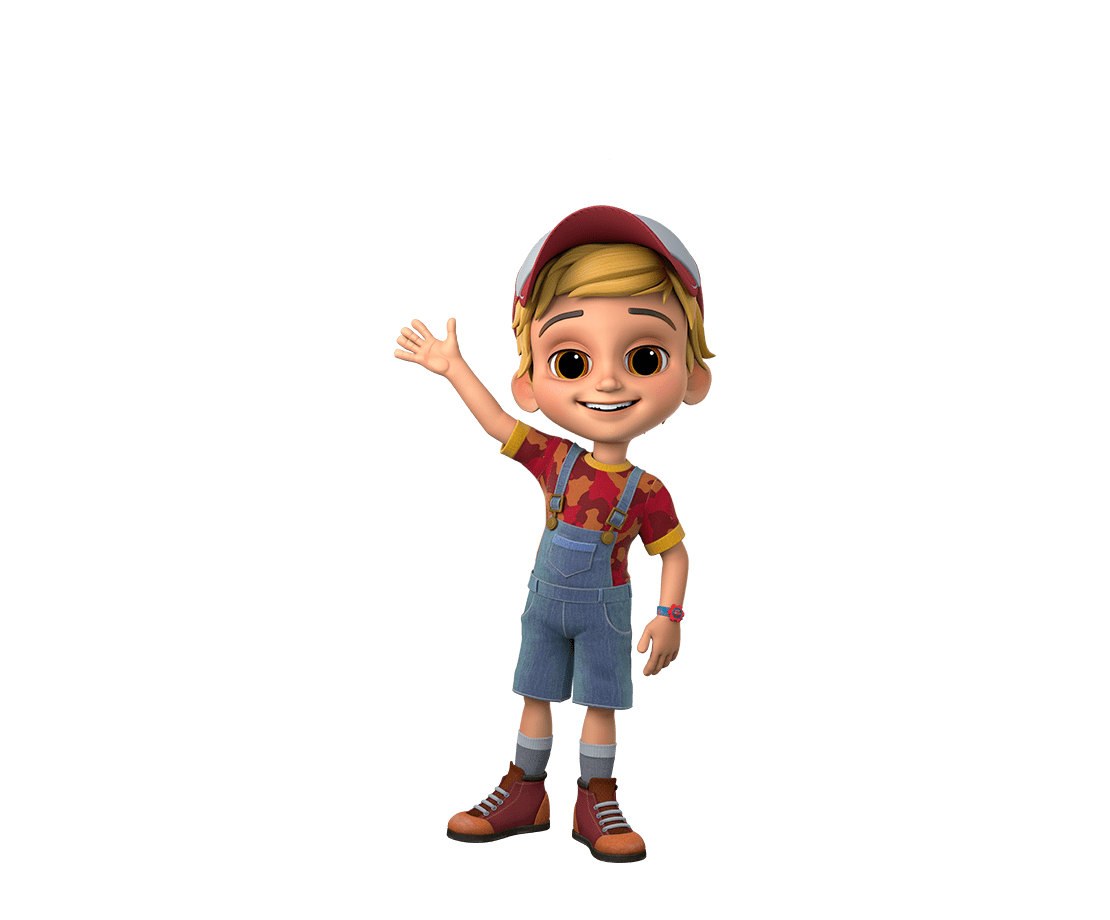 KATIE
Katie is not far of Peter in age. Like him, she likes the outdoor life, and knows everything there is to know about nature and animals. When she's out and about with Peter she tends to recite the names of all the plants and flowers they come across.
Katie is passionate about the environment, always making sure that everyone puts all the right things in all the right recycling boxes. Although she's generally good-natured, beware anyone who dares to leave a sweet wrapping or other litter on the ground. Katie will pick up the offending item, march up to the offender and hand it to them, saying "I believe this is yours!"

FLORIAN
Florian is Peter and Katie's little brother, a tough little ball of energy who's alarmingly fearless and always getting into trouble. He has four teeth, and although he can't speak, he can make a variety of sounds and understands everything that's going on.
Florian always wants to go wherever Peter and Katie are going, but when he does tag along they have to constantly monitor and look after him, which can cramp their style. However, he's just too little to be able to join in all their adventures, and sometimes he must stay at home with Grandma. He's not generally so happy about this – at least until she gives him a little treat to pacify him.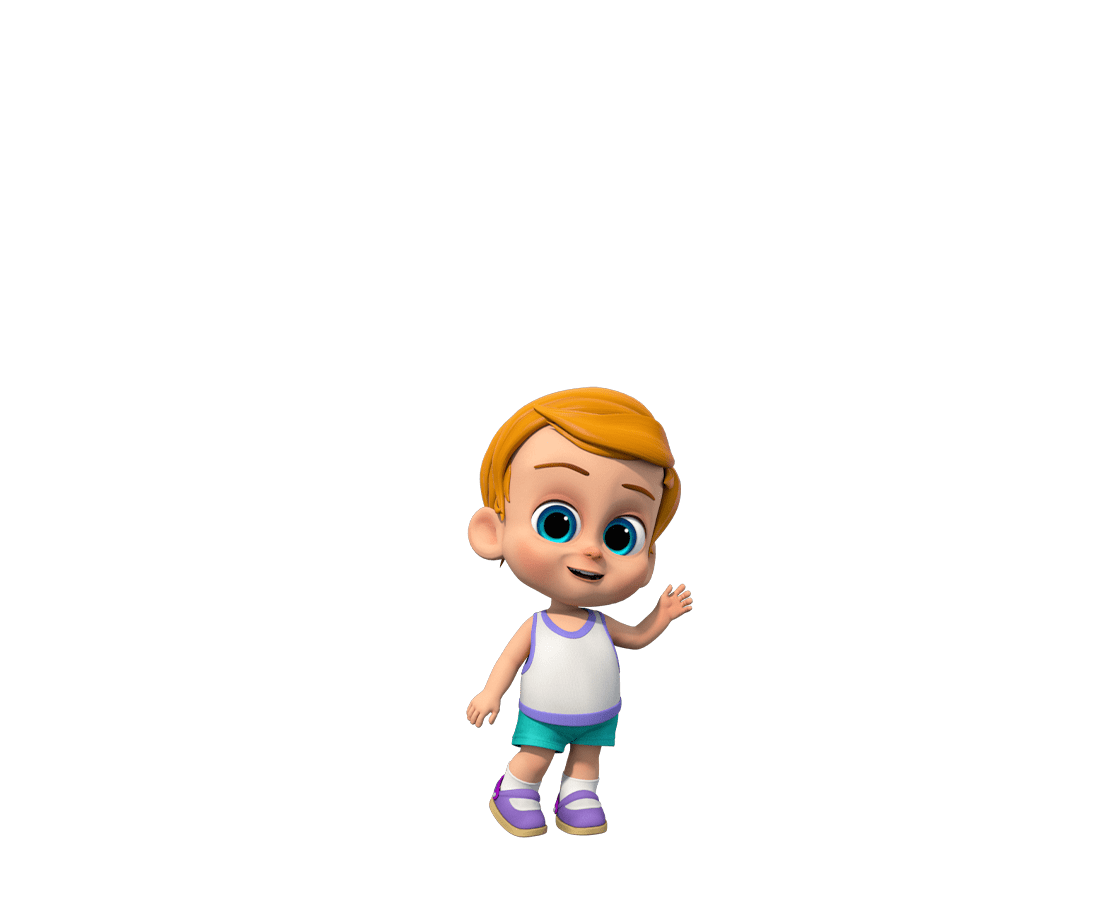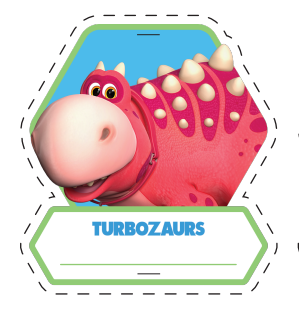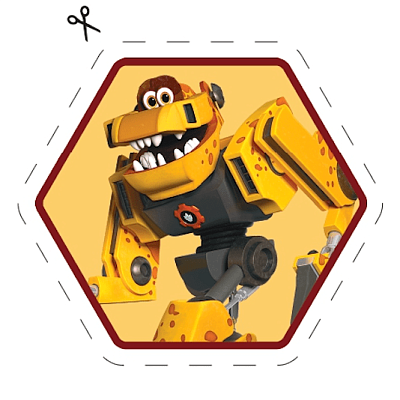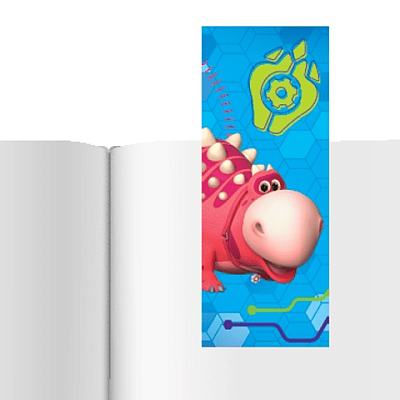 Bookmarks
Make a bookmark with your favourite Turbozaur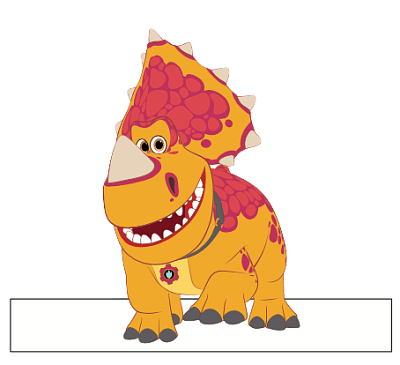 Finger puppets
Enjoy playing with finger puppets of dinosaurs that are easy to make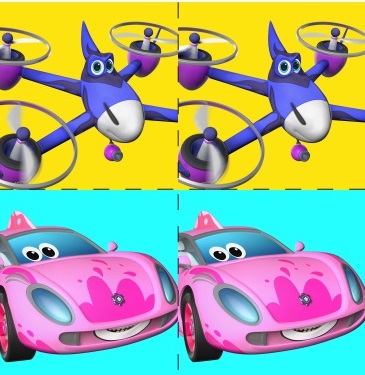 Memory
Print, cut and make your own memory game to play
View more
Play
Very soon it will be possible to download the game with Turbosaurs on the AppStore and GooglePlay!
View more